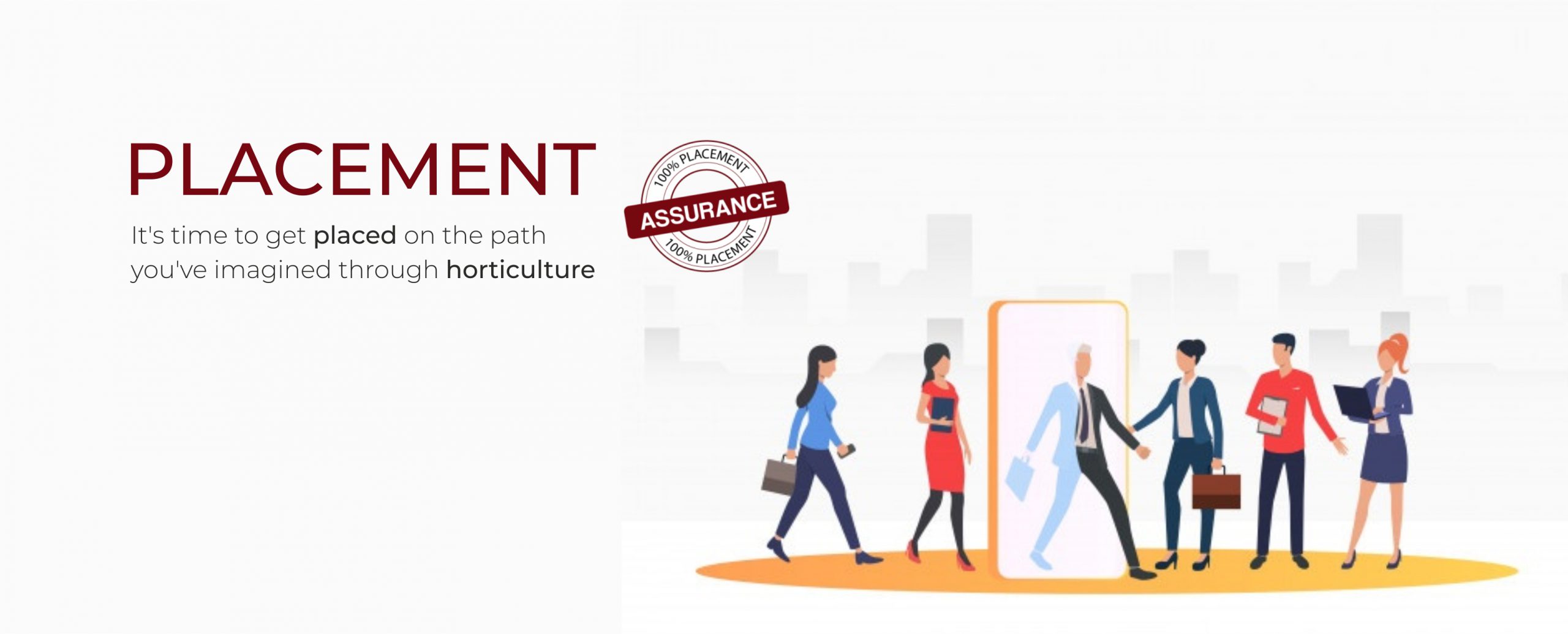 PLACEMENT
Today's global environment offers many more opportunities to skilled manpower in Horticulture after college than ever before. IHT not only provides theoretical academic education, but lays an equal focus on making the students career-ready for the New Age Economy. Whether a student is from agriculture/horticulture/biological background or other subjects, at IHT our customized courses and innovative training methods make sure everyone is employable. IHT offers 100% job assurance in regular diploma and post graduate diploma courses for Agriculture/Horticulture based companies, entrepreneurship and other programmes.
The able guidance and support from IHT starts from the scratch and takes the students to the extent where the student will find himself or herself to be very confident about all the subjects and skills which he or she has studied in the Institute. This will enable students to gain industry level experience here by undertaking projects on various specializations such as Protected Cultivation of Vegetables and Cut Flowers, Landscape Horticulture and Design, Hydroponic Crop Production, Organic Agriculture and many other specializations. The tools, infrastructure and all the other facilities provided by the IHT is above par and by using all these resources students will enhance their skills and knowledge.
MAJOR RECRUITERS
AGRICULTURE AND ALLIED INDUSTRIES
Seed Manufactures/ Suppliers
Farm Houses
Commercial horticulture/ Agriculture Farm Houses
Landscapers
Nurserymen
Auto Components
AVIATION SECTORS
CEMENT INDUSTRIES
CONSUMER DURABLES INDUSTRIES
EDUCATION AND TRAINING 
ENGINEERING AND CAPITAL GOODS
FMCG INDUSTRIES
HEALTHCARE SECTORS
HOTEL
INFRASTRUCTURE
IT & ITES COMPANIES
MANUFACTURING INDUSTRIES
METALS AND MINING INDUSTRIES
OIL AND GAS INDUSTRIES
PHARMACEUTICALS INDUSTRIES
PORTS
POWER SECTORS 
RAILWAYS 
REAL ESTATE INDUSTRIES
RENEWABLE ENERGY INDUSTRIES
ROADS
STEEL INDUSTRIES
TEXTILES INDUSTRIES
TOURISM AND HOSPITALITY
Comments are closed.