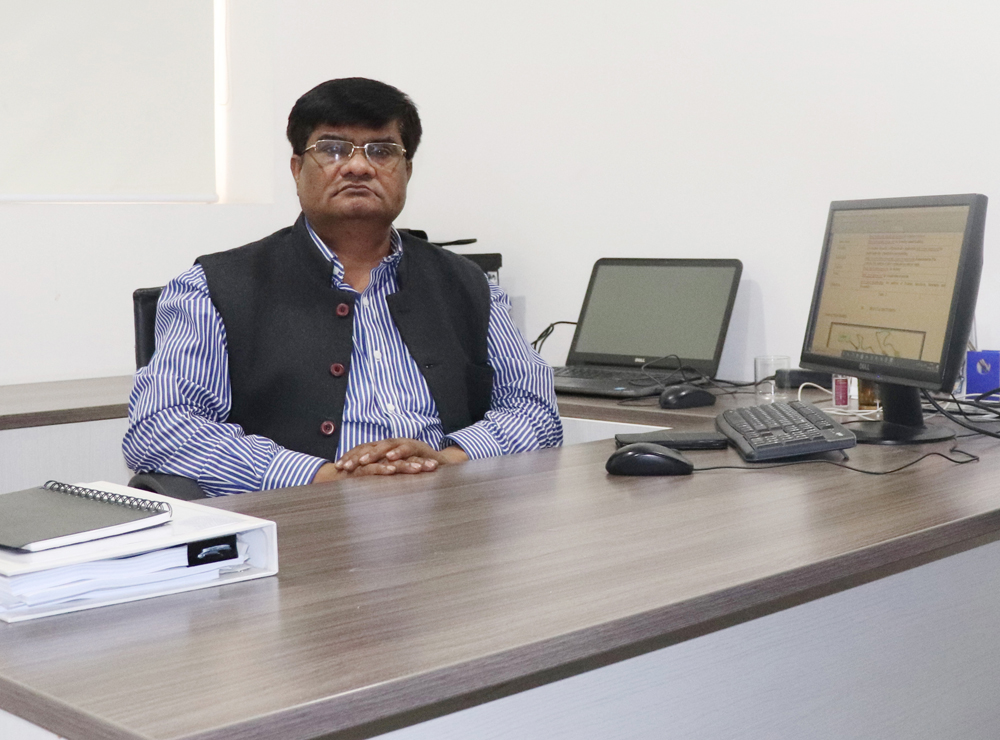 "Cultivation of mind should be the ultimate aim of the Human existence– Dr B R Ambedkar"
"An investment in knowledge pays the best interest. –  Benjamin Franklin"
The Institute is imparting higher education to inspire academic excellence and innovative research with social responsibility committed to pursuit of knowledge, wisdom and creativity for transforming higher education with respect of  Diversity; Equity & Inclusion; Community Participation; Use of Technology, removing language barriers in teaching, learning and in academic planning and management; Emphasize Conceptual Understanding rather than rote learning and  learning-for-exams; Unique Capabilities-recognizing, identifying in each student; Critical thinking and Creativity to encourage logical decision-making and innovations in research;. I assure the supporting National & International Institutions, Organizations, other stake holders and student that Institute has the traditions of achieving professional excellence with honesty. This is not only providing confidence to our supporting institutions but also infusing energy among student, energizing faculties and employees in creating new height and identity as well as increasing visibility in the academic arena.
The Institute has a multi-disciplined wi-fi campus located at Greater Noida an educational hub in NCR Delhi with well-furnished infrastructure such as faculty building, administrative block, academic & financial automation, Dean of studies, Dean Student Welfare, Registrar and Vice Chancellor's cell, committee & conference rooms, computer labs, digital & smart classrooms with Video conferencing facilities, counseling & medical facilities, well equipped laboratories & experimental research fields. Library with e- learning and 24 hours e-connect environment, well-furnished Girls & Boys hostels, well equipped kitchen, mess and cafeteria, play grounds and indoor & outdoor recreation facilities, personality development & placement Cell etc. The Institute has its well-equipped satellite campus at Mandira, District Kamrup, Assam for carrying out innovative research and imparting practical training to the trainers and farmers.
The institute has its unique identity and created benchmark globally in the field of Horticultural Technology particularly protected cultivation of all kind of Horticultural and Agricultural crops by standardizing varieties of poly houses and hydroponic techniques. We have highly qualified team of professionals & experienced faculty in all gamut of Hort- agriculture and Social Sciences for carrying out innovative research and imparting trainer's   trainings to national and international experts & professionals as well as entrepreneurial.The academic programmes like advanced and specialized  UG and PG programmes designed for producing best professionals & entrepreneurs  in various disciplines of Horticulture by adopting a strong industry focused teaching programme with practical knowledge under the aegis of Dr. Rajendra Prasad Central Agricultural University, Pusa, Samastipur, Bihar; Tamil Nadu Agricultural University, Coimbatore, T.N; Ministry of Agriculture and Farmers Welfare, Govt. of India; Deptt of Scientific and Industrial Research & Deptt of Bio-Technology, Ministry of Science and Technology, Govt of India
Based on my past academic experience as Vice Chancellor in Acharya N D University of Agri & Tech, Ayodhya, U.P; Dr B R Ambedkar University of Social Sciences, Indore, M.P; Birsa Agricultural University, Ranchi, I assure that we strive to groom our students to enable them to turn into excellent professionals and achievers. The basic aim of the Institute is to develop a future generation scientists, professionals, entrepreneurs yearning for global competitive excellence.  We want to give wings to your dreams by offering educational excellence and innovative research that takes pride to our Nation. The institute has academic collaborations with world's best academic and research institutions for academic and research exposure of students and scientists, besides, number of national and international conferences, seminars, workshops, training programme, exhibitions  etc are organized by the Institute to provide  variety of experiences and exposure to the students.
The Institute is providing scholarships for meritorious students and also job opportunities in various National & International programmes besides conducive environment for active participation and exposure of students with faculty and authorities in educational, research and extension & training programmes. I am confident that Institute will reach greater heights of excellence globally in near future and attract more students from other parts of the world. We are open to have new innovative ideas and creative thinking. I wish you all, a every success in your studies, career and future endeavors.

Comments are closed.