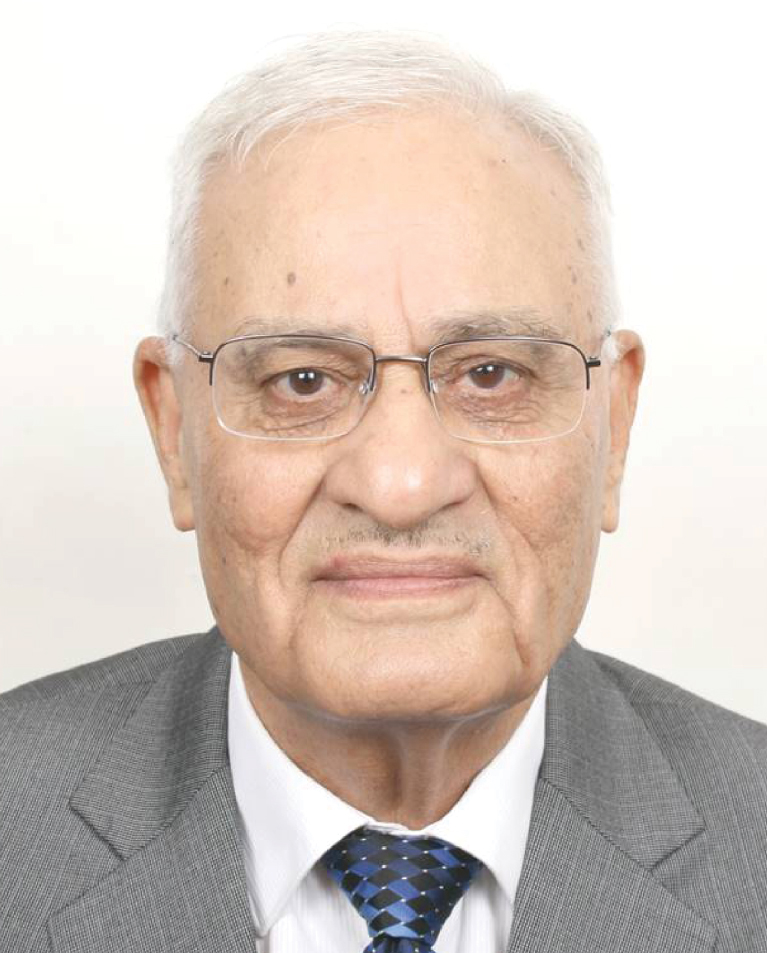 Chairman
Dr. K. L. Chadha
Padma Shri Awardee, EX Deputy Director General, Horticulture,
Indian Council of Agricultural Research, Government of India
Former

National Professor
Horticulture Commissioner, (Ex. Officio Joint Secretary) Govt. of India
Executive Director, National Horticulture Board, Govt. of India – Gurgaon
Director, IIHR, Bangalore
Horticulture today, forms an integral part of food, nutritional and economic security. Adoption of horticulture, both by small and marginal farmers, has brought prosperity in many regions of the country as India is endowed with a wide variety of agro-climatic conditions and enjoys an enviable position in the horticultural map of the world. Almost all types of horticultural crops can be grown in one region or the other.
As per the final estimates of 2017-18, horticulture production stood at record 311.7 MT, which is 3.7 per cent higher than the previous year and 10 per cent higher than the past five years' average production. During 2017-18 area under various horticultural crops in the country was 6506 (Fruits), and 10259 (vegetables) thousand hectares.
Various technologies like protected cultivation, use of high yielding varieties and hybrids, improved propagation and micro propagation techniques, high density planting, drip irrigation and fertigation technology, application of good agricultural practices, integrated pest & weed management and post-harvest management are being used to boost up horticultural production.
To make the best of the opportunity horticulture sector offers, we need to train our human resources to cater to the requirements of this fast developing industry. This vital link of providing trained manpower to the emerging industry requirements of horticulture sector has prompted us to launch an Institute of Horticulture Technology in 2009. The institute envisions to develop institution of excellence in science, technology, innovation and governance.
The Institute is multi campus with main campus at Greater Noida, NCR Delhi while the second one located is at Mandira, District Kamrup, Assam. The Institute undertakes programmes of Education & Development projects with an objective of building of manpower in Horticulture Sector. It is characterized by State-of-the-Art facilities coupled with experienced, and professional faculty to ensure a steady supply of well-trained manpower that are fine tuned to the requirements of the horticulture industry.
The courses offered by the institute are approved by Dr. Rajendra Prasad Central Agricultural University, Pusa, Samastipur, Bihar and Tamil Nadu Agricultural University, Coimbatore, Tamil Nadu. The Institute is also recognised by Ministry of Agriculture and Farmers Welfare, Govt. of India as a resource centre for Hi Tech Horticulture Trainings. The Institute has in house R& D facility which is recognised by Department of Scientific and Industrial Research, Ministry of Science and Technology, Government of India.
Till date we have upskilled thousands of trainers, growers, students and prospective entrepreneurs at the main campus, Greater Noida, NE Regional Centre, Assam and at sites in different states. The states/U.T's included Assam, Andaman and Nicobar Islands, Arunachal Pradesh, Chhattisgarh, Delhi, Gujarat, Himachal Pradesh, Haryana, Jharkhand, Karnataka, Madhya Pradesh, Maharashtra, Manipur, Mizoram, Nagaland, Orissa, Sikkim, Tamil Nadu, Uttarakhand, Uttar Pradesh and abroad – mainly Tunisia, Ethiopia, Ghana, Sudan, Tajikistan, Palestine, Vietnam, Tanzania, Sri Lanka, Kenya, Bahrain, amongst others in the last ten years.
I hope the students 10+2, agricultural graduates, horticultural officers and growers will take advantage of various courses being offered by IHT and participate in the scientific growth of horticulture industry in India.

Comments are closed.